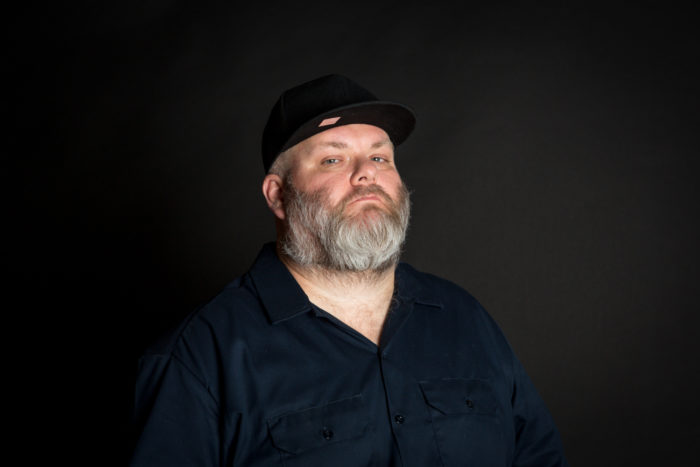 David Pilgrim
Assemblage Artist and Painter
Social
A Houston native, David LOWBROW Pilgrim, has made it his goal in life to keep things as simple, and LOWBROW as possible. Following the perspective of such early influences as Robert Williams, (the father of the LOWBROW movement), to Robert Crumb, his multifaceted works of art are usually more tongue in cheek, that quite as serious as they may seem.
Self-taught, and coming from a blue collar, non artistic background, Lowbrow Pilgrim, has made his way through life acquiring skills needed in order to understand and construct his found object assemblages. Working with his father since a very young age, he learned the ins and outs of gas motors, and small compressions engines. Later in life he took work as a welder and maintenance man where leaned about high voltage electricity, metals, and small electric motors. He has worked in body shops, pawnshops, tattoo shops, and even seedy adult magazine stands. According to David, "Everyday is a chance to learn something new, without even realizing the lessons we are being taught." With that being said, he never realized that all of these things would someday culminate into a clear, common sense interpretation of his artistic understanding and utilization of the tools required to ply his craft..
Lowbrow Pilgrim is mostly known for his found object assemblages. The artist feels that things never truly outlive their usefulness, even though they may have outlived their intended use. Rarely will he purchase anything new to incorporate into his work. He feels the need to scour thrift stores, flea markets, and garage sales, even roadside abandonment's of some stranger's life, to find just the perfect pieces to incorporate into his work. Rarely will he leave a piece in its original finish, instead after construction is completed; he ages and weathers the piece to bind its cohesion. Many, separate, ugly things becoming one beautiful thing, in a sense. Beauty is a word scarcely used in reference to LOWBROW Pilgrims work. He has been quoted to say of most of his pieces, " I strive for a look of putrid antiquity. Think of something that has perhaps fallen overboard, into the salty ocean. After many years, it is recovered, and left un-restored like a rusty, crusty, beautifully hideous thing. That is my intention." He finds the beauty in the ugliness and disregard of the things left unwanted, thus making them more personal to the person that covets them.