Nativo An Exhibition Acknowledging Our Roots
July 31 @ 5:00 pm

-

9:00 pm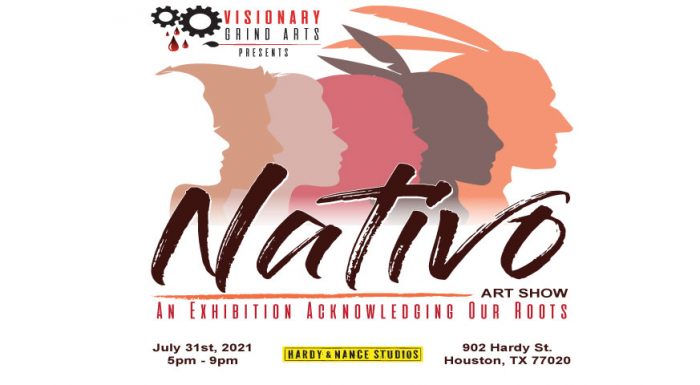 Visionary Grind Arts and Hardy & Nance Studios are proud to present "Nativo – An Exhibition Acknowledging Our Roots" art show. Featuring solely Latinx & Indigenous artists whose origins or ancestors are Indigenous, American Indian, from Mexico, the Caribbean, or Central and South America, this exhibition is meant to showcase and acknowledge creativity from our Latinx & Indigenous community. This show will enlighten viewers by providing a peek into the beauty, anguish, and brilliance that the Latinx & Indigenous culture encompasses. It is an opportunity for artists to share culture, traditions, current issues, and history with the audience. Call for entry is open to Latinx & Indigenous artists of all calibers who live in the Houston area.
THEME: Artwork must be representative of Latinx & Indigenous culture, strife, and traditions. All 2D & 3D media, and genres of art accepted.
SUBMISSION DEADLINE: Submissions closed.
ENTRY FEE: $10.00 fee for each accepted piece, due at drop off—July 25th, 2021 (1pm-4pm) and July 26th, 2021 (6pm-8:30pm). There is NO fee to submit work for consideration.
PAYMENT FORMS ACCEPTED:
– Cash
– CashApp – $VisionaryGrindArts
– Zelle – visionarygrindarts@gmail.com
– PayPal – visionarygrindarts@gmail.com
ART SUBMISSION INFO: Artists may submit up to ( 4 ) .jpeg/.jpg images. All accepted work must be dry and ready to hang or display. Artwork must be original and fit the theme of the show; any plagiarized pieces will be disqualified.
*NOTE: Artwork must not contain any bodily fluids. If using loose glitter or confetti, the mediums must be completely adhered and sealed to the substrate in a manner that it will not fall off.*