Open Studios November 2018
November 18, 2018 @ 12:00 pm

-

5:00 pm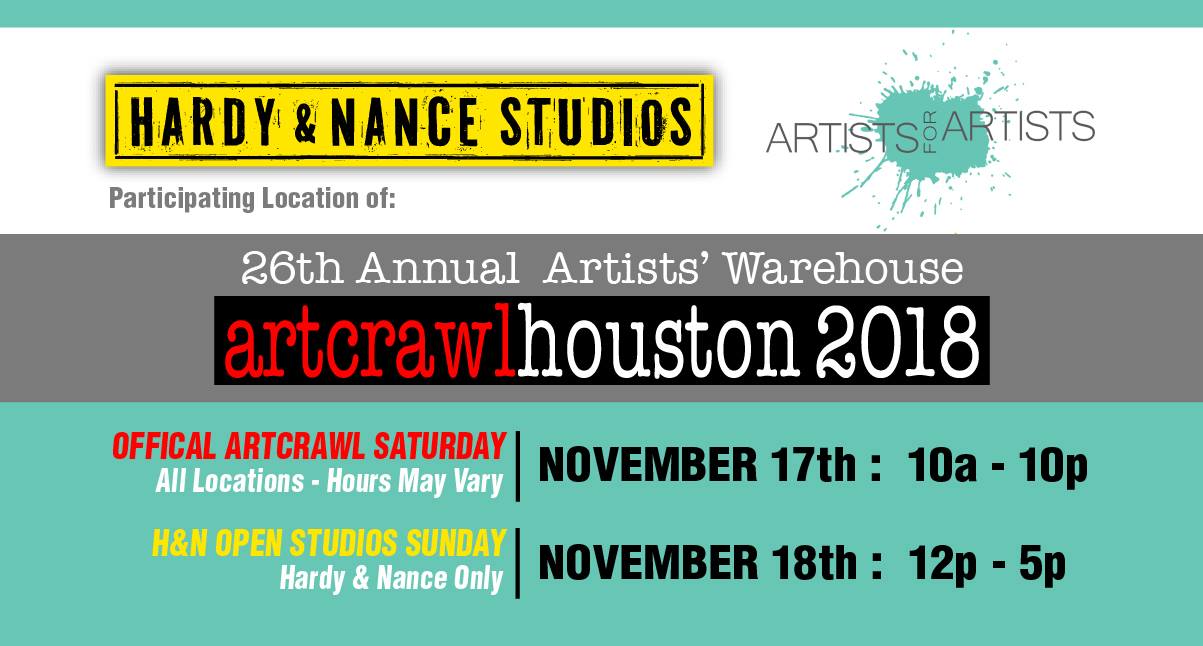 An event in which artists in the old & historic, Downtown Art Warehouse District, open the doors to their working studios and invite the public in for a peek at what happens behind the scenes. This tradition started in 1992 and takes place the weekend before Thanksgiving. OFFICIAL ARTCRAWL WEBSITE
Hardy & Nance Studios will once again be a participating location during ARTCRAWL. Over 40 Resident Artists will be opening their doors for you to peruse their studios and purchase art. Painters, illustrators, photographers, potters, jewelry designers, sculptors & more… all under one roof.
This year we've also teamed up with Artists for Artists, a nonprofit organization that provides Emergency Recovery Grants designed to assist eligible artists experiencing career-threatening emergencies. Artists for Artists has gathered a group of Houston's top artists together to showcase their work in the H&N Gallery. A portion of their sales will help other artists in need. More about the organization.
FEATURED ARTISTS FOR ARTISTS:
Patrick Medrano, Katy Anderson, David Hardaker, Johan Barrios, David Graeve, Anat Ronen, Tra' Slaughter, Claire Richards, Adrian Landon Brocks, Syd Moen, Allan Rodewald, Anthony Butkovich, Dandee Warhol, Robert Dambier, Kenneth Pierson, Felipe Lopez, Shelly Shanks Lockwood, Theadra Cullar-Ledford, Anthony Wood Fancher, Justin Dunford, Jonathan Paul Jackson, Alfredo Scariona, Santos Guerro, JP Hartman, Janavi Mahimtura Folmsbee, Tod Bailey, Sara Sudhoff, Carl Lockstedt, Paula Fridkin, Peter Emmett Healy & Matt Messinger
FOOD TRUCK:
Rich Boy Po'Boy – November 17th, 12p-10p
HARDY & NANCE STUDIOS will also have an additional Open Studio Day on Sunday, November 18th: 12-5 pm.
Come meet the artists and soak up the culture at one of the city's best hidden treasures. The biggest & best FREE art show in town!