Androids Dream of Electric Sheep
March 18 @ 5:00 pm

-

9:00 pm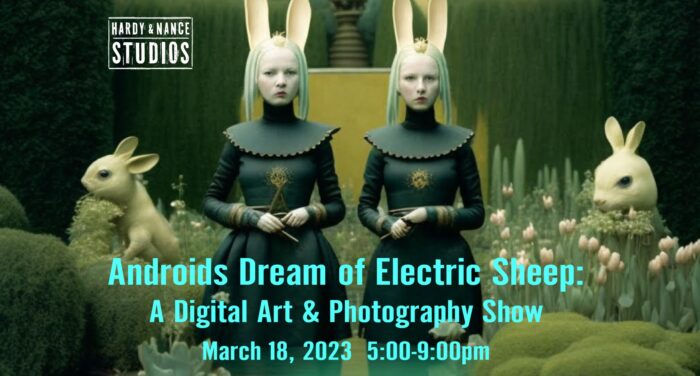 Hardy & Nance Studios is pleased to announce our Call for Entries for the "Androids Dream of Electric Sheep: A Digital Art & Photography Show" that will be on display Saturday, March 18, 2023, from 5-9pm. This call for entries is open to all artists in Houston and surrounding areas.
THEME: Show a visual representation of your dreams by using any electronic means of creation. Digital art, digital collage, AI art, composite art, digital photography are all allowed. Can be printed on the substrate of your choice.
Artists must specify what programs or apps were used to recreate these dreams. Midjourney, DALL-E, photoshop, gimp etc.
SUBMISSION DEADLINE:
Artists can submit images and information for up to four (4) pieces no later than Tuesday, February 28, 2023 at 11:59pm. This is a curated show, so some pieces may not be chosen. Notification of acceptance into the show will be given no later than Sunday, March 5, 2023.
ART SHOW FEE:
The entry fee for this show is $10 cash per accepted piece, due at drop off. If entry fee is not brought during drop off, we cannot accept art. There is no fee to submit images for consideration.
There is NO commission fee involved and therefore artists are strongly encouraged to attend for the duration of the show and handle all sales transactions. Be sure to have Square, Paypal, Venmo, or other application to take credit card sales. If an artist is unable to handle any sales transactions, Hardy & Nance Studios is happy to facilitate the sale on your behalf for a 20% stipend to cover processing & handling fees.
Drop-off: Sunday, March 12, 2023 (Noon-3:00p) WITHOUT EXCEPTION. Delivery accepted through Door G entrance.
Pick-up: All artwork MUST be claimed/picked up at the end of the show (March 18, 2023 at 9:00pm). Any art left behind will be considered abandoned and done with as H&N Studios sees fit.