Abstract Art
September 4 @ 5:00 pm

-

9:00 pm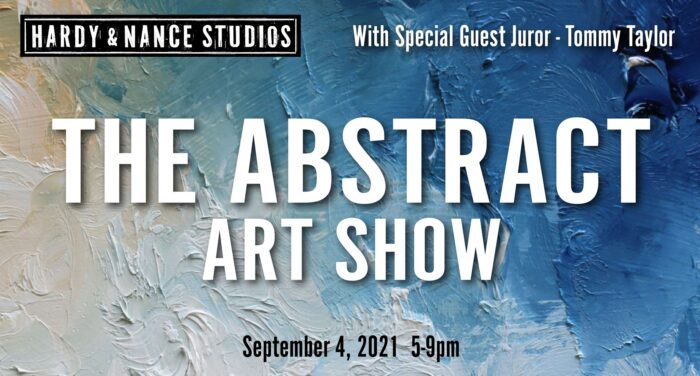 Hardy & Nance Studios is pleased to present The Abstract Art Show with special guest juror, Tommy Taylor, on September 4, 2021 from 5:00-9:00 pm.
THEME: Abstract art that explores the relationships of shape, form, color and line to create a composition that breaks away from the traditional representation of physical objects.
SUBMISSION DEADLINE: August 15, 2021 11:59pm
SPECIAL GUEST JUROR:
Born in Jackson, Tennessee, Tommy Taylor has since moved to Nashville, Knoxville, Iowa City, London, Raleigh, and now Houston. While he continued to develop his work at Goldsmiths University, and acclimating to London life, he also traveled throughout Europe and Asia. Tommy uses his life experiences along with different materials to reflect on the world through his eclectic imagery in which he is committed to an ongoing circuit of public reflection and intrapersonal meaning not only with his art but also with his books, teaching, and art community. While he has work in collections along with a history of exhibitions, he chooses for the moment to teach, work, and write in Houston. For Fall 2021 Tommy is showing work at Barbara Davis, Lawndale's Big Show, and Hardy & Nance Studios.
www.TommyTaylorArt.com
No fee to submit. There is a $10 fee per accepted piece that will be due at artwork drop off. Artists handle their own sales and keep 100%. If H&N handles a credit card sale for the artist, there is a 10% fee to cover taxes, transaction fees, etc.
DETAILED INFO & SUBMISSION FORM: Submissions closed.