10 x 10 Show – 9th Annual
January 20, 2024 @ 10:00 am

-

10:00 pm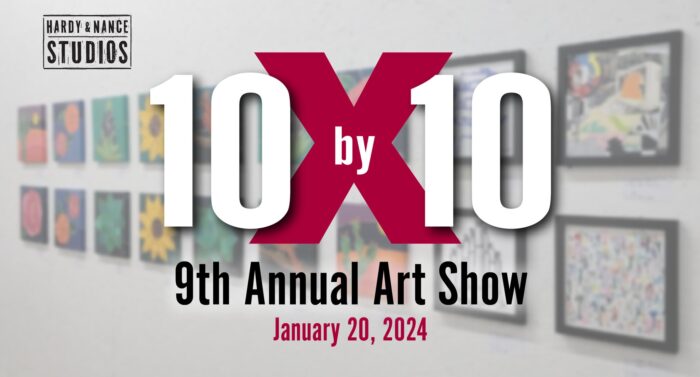 Hardy & Nance Studios is pleased to announce our Call for Entries for the 9th Annual 10″ by 10″ Art Show that coincides with our Third Saturday Open Studios on January 20, 2024 from 10am-10pm.
This call for entries is open to all artists in Houston and surrounding areas working in 2D & 3D media and is an open themed show.
THEME: All artwork MUST be 10″x10″ (10 inch square) for 2D work (this includes the outer dimensions of all framing) and 10″x10″x10″ (at widest, highest, and deepest points) for 3D work. Please no diamond orientation or other shaped canvases. Keep it a 10″ x 10″ square. We will only allow up to 1/4″ (0.25 inch) larger or smaller.
There is a price cap for this show. Artwork must be priced at $250 or less for each piece.
Your artwork may be any style, subject and medium*. No loose glitter or confetti. If using these mediums, they must be completely adhered to the surface in a manner that it will not fall off.
*Digital Art & Photography Prints are acceptable. AI generated art/images will not be permitted.
SUBMISSION DEADLINE: The maximum number of pieces an artist may submit is 20. Deadline to submit this form is January 11, 2024 at 11:59pm.
Once the form is sent, you are automatically entered into the show. We do not require images or artwork titles during online submission. You will fill out wall labels for your art during drop off.
ART SHOW FEE: The artwork entry fee for this show is $10 per piece to be collected during drop off.
There is NO commission fee involved and therefore artists will handle their own sales. We ask that you provide a phone number for patrons to contact you for purchasing. Be sure to have Square, Paypal, Venmo, or other application to take credit card sales.
If an artist is unable to handle any sales transactions, Hardy & Nance Studios is happy to facilitate the sale on your behalf for a 20% stipend/service fee to cover processing & handling fees.