Insomnia Gallery presents Summer Slashers: An Art Tribute to Horror
June 26 @ 7:00 pm

-

June 27 @ 12:00 am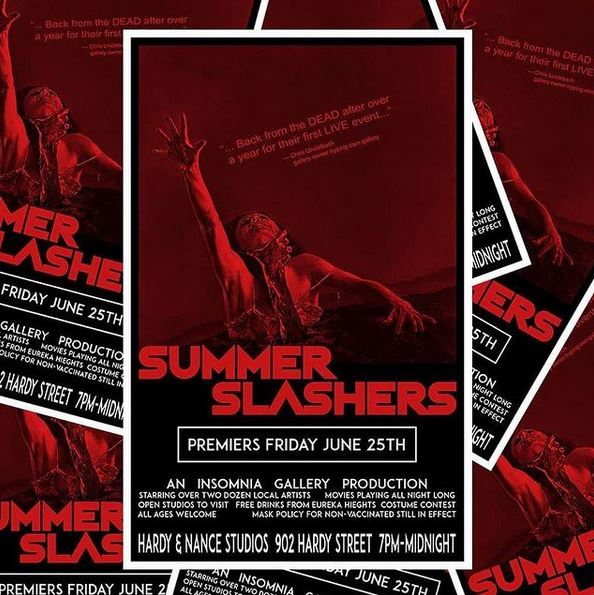 Summer Slashers Horror Art Show and Movie Night!
7PM-MIDNIGHT
Hosted at Hardy & Nance Studios (902 Hardy St)
Friday June 25th
FREE SHOW // ALL AGES
From Insomina Gallery: We are beyond THRILLED to announce our first in-person art show in over a year! Join us as we present a group show paying homage to all things horror!
The dog days of summer are upon us and the chilly nights of Halloween season seem far away, but that doesn't mean we can't celebrate all things horror at this KILLER event!
Join us on Friday June 25th as we host an art show featuring local artists paying homage to the horror genre through original works and fan art. In addition we'll be projecting horror movies throughout the night and will have a costume contest!
As always, we'll have free booze on hand courtesy of Eureka Heights Brew Co and we'll whip of a batch or two of something wicked!
Participating Artists List So Far:
Brittany Zick
The Gilded Lady
Ryan David Beserra
Ladybird Art
Jennifer Gonzalez
Mindy Lam
Cinamuffins Art
e.c. Floresart
Hayley Heartfield
AGP Letters
Lori Elaine
J. Michael Stovall
Mark Molina
Stephen Strange
Vinnie Hughes
BJ Baker
Karin Little
Kari Rodriguez
Danny Wickersham
Christopher Castaneda
Darling Nobody
Traplord the II
Faces Create
Daisy Orella
Alfonso Alvarez
Cease
Mark Wise
Billy Le
Beanpolice
Juliabites
Ashley Poe
Dante Gabriel Hookey
Dragondust
Felix Gonzalez
Jeston Rodriguez
John Guillen